The Chillah of Hazrat Khwaja Moin Uddin Hasan Chishti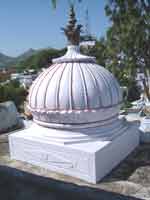 The Chillah is the place where Hazrat Khwaja Moinuddin Hasan Chishti lived during his first visit of Ajmer in 561 A.H. Details of Khwaja Moin Uddin Chishti's stay and the miracles performed there are recorded in many books.
The Chillah itself is a small cave situated on a hillside overlooking Anasagar Lake. In later times, two platforms where erected in the cave indicating the places where the saint would pray and where he would take rest.
In 1037 AH, Daulat Khan enhanced the cave with the addition of a door and the engraving of some couplets.
In 1935 AD, Hazrat Nawab Khadim Hasan, Gudri Shah Baba III, built the dome, symbolising the oneness of God. Some surrounding rooms were also built and electric supply was made available, which was a completely new thing in Ajmer at that time.
Today, an ever increasing number of people visit this place to pay their homage to the saint and to benefit from the eternal blessings of the greatest Chishti Saint of India.