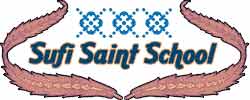 About the school
History:
Hazrat Inam Hasan Gudri Shah, the current Head of the Gudri Shahi Order of Sufis, started the school in the year 1990 as a non-formal education centre. Later, in 1993, the then Head of the Order, Dr. Zahurul Hassan Sharib, Gudri Shah IV provided land and building for the school and the foundation of The Sufi Saint School was laid as a formal educational institute. The school is registered and recognized since 1993.
Objective of the School:
To bring together children from different communities, irrespective of their caste, creed colour, religion and gender and to provide them free / subsidized education in order to make them self sustained. The school aims to promote the feeling of harmony, peace and universal brotherhood so that the students may become better citizens of this world.
Location:
The school is situated on a small hill facing the Ana Sagar Lake and offers an open, clean and noise-free environment. Centrally located, the school is accessible by road.
Strength:
The school has risen in strength very quickly. In a short span of about 8 years since its inception, the strength of students has grown from about 40 in 1993 to about 300 in the current year. The popularity of the school is growing fast and it is estimated that we should soon have about 500 children.
Classes:
The school has 11 classrooms and teaches children right from nursery (Primary) classes to the Middle classes (Grade 8). There are 16 regular teachers apart from part- time and visiting faculty.
Study and Syllabus: The school teaches all the prescribed subjects according to the official Government recommendations. The syllabus also includes free computer education for the students of Middle Classes.
Extracurricular activities:
The school provides a small playground for children and encourages overall development. An annual function is held which is a platform for children to participate in dance, music, drama, painting and other activities. Apart from which, students are regularly encouraged and guided in alternate forms of education.
List Of Donors
Sufi Saint School Society, Ajmer, India. FCRA Donations details:
| NO | Date | Name Of Donar | Country | Purpose | Amount in indian Rs. | Amount in €/£/$ |
| --- | --- | --- | --- | --- | --- | --- |
| 1 | 11/5/2017 | Nelly | Germeny | Development | 625500 | € 9,000.00 |
| 2 | 9/8/2017 | Nelly | Germeny | Development | 1200279 | € 16,096.00 |
For any further details about the Sufi Saint School, you may contact
Mr. Bharat Ramnani,
Principal, Sufi Saint School
Ana Sagar Ghati, Ganj
Ajmer - 305 001
Phone: 00 91 - 145 - 2625 737
E-mail: principal@sufisaintschool.org